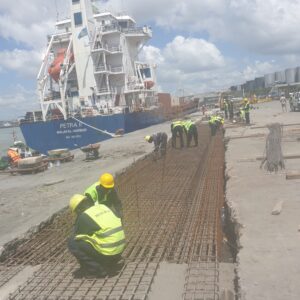 The Kenya Ports Authority has forged a strong relationship with CERT since 2014 and engaged them to assist with the development of its workforce and establishing training strategies. This has involved CERT visits to Kenya and Kenyan officials visiting Australia for training and consultation.
Kenya Ports Authority is a state corporation with the responsibility to maintain, operate, improve and regulate all scheduled seaports on the Indian Ocean coastline of Kenya, including principally Kilindini Harbour at Mombasa, the only international seaport in Kenya and the biggest port in east Africa with intermodal transport capabilities.
Due to the history with CERT and the quality of the training, which ensures workers are safe and competent to operate to a nationally recognised standard, Steve i. Omuyoma contacted CERT Queensland Operations Manager, Sean Choat again in June 2019.
After key stakeholder conversations took place, the training requirements for Kepher Lusigi, Isaac Momanyi and Steve were identified and plans for the international journey to Australia commenced.
Upon arrival, the team of 3 completed an intensive two-week program conducted by CERT Queensland's highly commended Rail Infrastructure Trainer, Mr Les Suares, undertaking various forms of practical and theory training.
The visit also included visits to State and Commonwealth civil infrastructure projects and meetings with Commonwealth, State and local government and statutory planning authorities to provide an insight into the successful implementation of significant transport infrastructure projects.
Upon return to Kenya, Steve and his team have used their new skills and knowledge to with an email from Steve explaining the "visit to CERT is very important in our supervision and approach" on their work sites
Kenya Ports Authority expressed their gratitude for effective strategies used to train the team. CERT's staff were praised for their professional and very personable approach to the needs of the Kenya Ports Authority labelling the experience as "the best training arrangements possible".
Steve emailed Sean upon his return to Kenya with the following feedback,
"on behalf of Kenya Ports Authority and the rest of the team that attended the above training, I thank you and your team for the great and effective training our team received, your staff were wonderful and I personally congratulate you for the best training arrangements that you had in place for us. CERT is great and will remain one of the best in railway training."