Values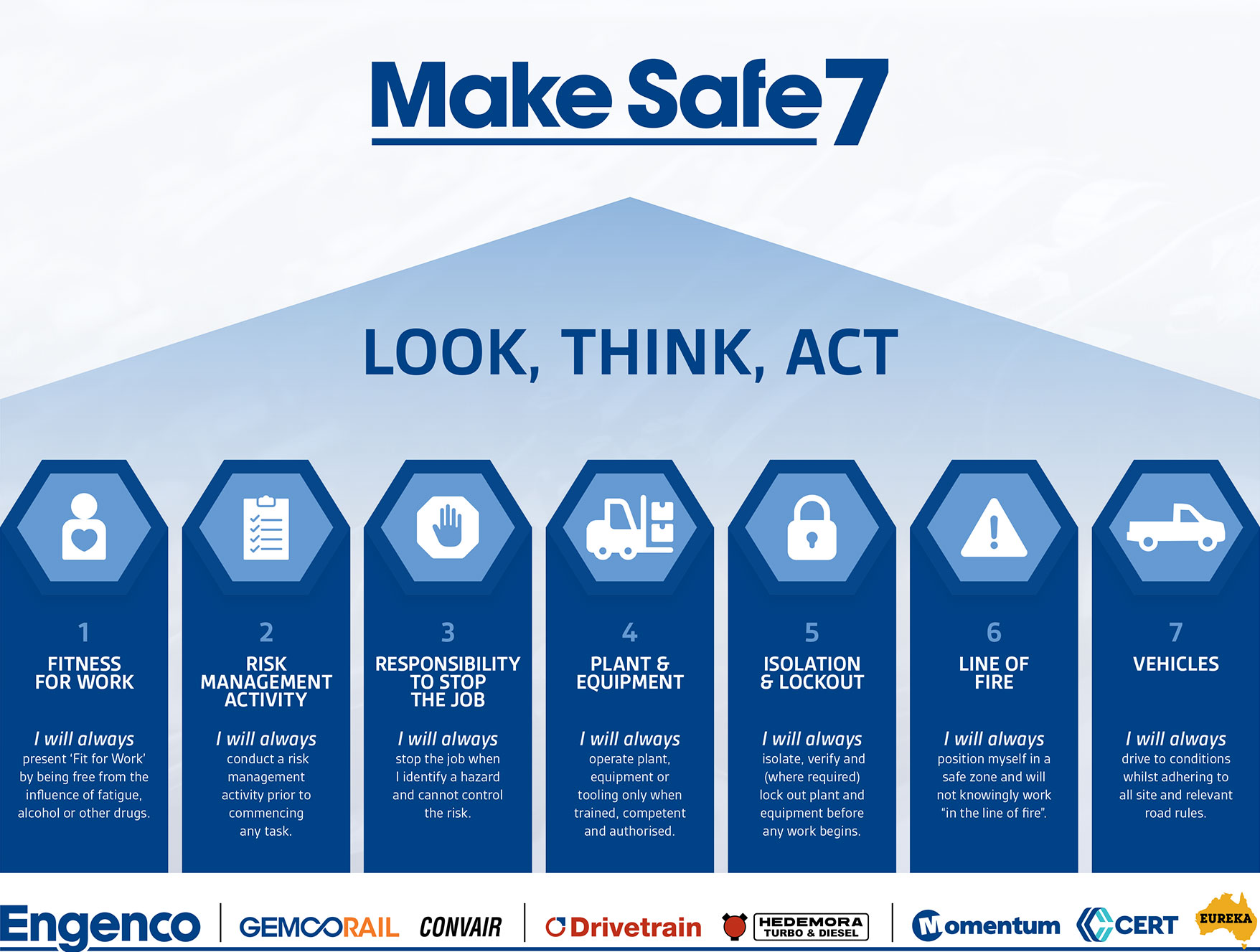 Safety
Engenco is committed to providing a safe workplace through the innovative use of safe systems of work and the development of a strong safety culture which commits all employees to work safely and to ensure the safety of others including contractors, visitors and work partners. This can only be achieved by the complete integration of safety into everyday activities. We actively pursue a "Make Safe" culture that encourages the identification and reporting of hazards, unsafe acts and near misses, so as to drive the proactive mitigation and control of associated risks.
Engenco is committed to:
Maintaining a consistent focus on ensuring positive WHS work practices;
Demonstrating a tangible commitment to developing a safety culture within individual business units and across the industry;
Ensuring and fostering a culture of communication and cooperation in the implementation of WHS initiatives;
Using effective consultation and communication arrangements to ensure that management, supervision and WHS consultative committees and other interested parties are aware of their obligations and responsibilities;
Ensuring that a systematic approach is taken to the identification, management and where possible – elimination of workplace hazards;
Monitoring, benchmarking and reporting the effectiveness of safety systems and taking the appropriate action as necessary to improve and compare safety performance;
Ensuring that all legal obligations are met;
Ensuring ongoing training and development of all personnel concerning their obligations under law and also to ensure gaps in competency are addressed in a timely manner;
Conducting regular audits of safety procedures to ensure that they remain applicable and effective for managing safety and complying with statutory requirements and regulatory obligations.
Above all, the safety of all people associated with each Group Company is paramount. Engenco Limited encourages this viewpoint and the notion that safety must never be compromised.
Environment
Engenco is committed to adopting a preventative approach to its operations to minimise potential harm to the environment.
Engenco endeavours to:
Reduce waste through innovative work practices and recycling practices
Use processes and materials that minimise or reduce the release of environmental emissions
Minimise the impact of our operations on the neighbouring community
Increase the use of environmentally acceptable materials, equipment and technology in place of those which are considered harmful
Insist that all suppliers and parties to contracts observe all valid laws and promote the implementation of safe environmental practices
Actively promote environmental awareness to all staff, clients, customers and the general public
Our Responsibilities:
Ensure that all environmental policies and procedures are implemented
Provide adequate resources to reach the above objectives
Measure key performance indicators to ensure there is continuous improvement to our operations
Ensure all new staff, suppliers and other stakeholders are aware of Engenco Environmental policy and practices.
Quality
Engenco places particular emphasis upon quality to world class standards, experience, expertise, capability and reliability. We are committed to providing quality products and associated services which will ensure customer satisfaction throughout the effective life of the products and services that we provide. We are committed to continuous improvement and strive to deliver excellent service, provide exceptional value and exceed customer expectations.